September 28th, 2011
San José Airport to Playa San Miguel Car/Bus Travel Options!
Click here for Additional directions for the Jungle House
Options by Car:
NB: This route is passable in a 2-wheel drive car.  It also avoids downtown San José.  Caution: drive the speed limit. The Costa Rican traficos (cops) use radar!
Helpful map of the Nicoya Peninsula of Costa Rica
Direction #1. A.  San José (Airport) to Puntarenas Ferry (~4hrs) to Playa Naranjo (~1hr).  B. Playa Naranjo North to Jicaral (~ 1/2 hr).
Direction #2. San José (Airport) Hwy 1 (~3 hours) to the Tempisque (Amistad de Taiwan) Bridge. Continue south on the Nicoya Peninsula to Jicaral (~ 2 hrs).
Direction #3.  San José (Airport) to Liberia on Hwy 1 (~ 4.5 hours).  South on the Nicoya Peninsula (Hwy 21) to Jicaral.
Note:  Jicaral is the last town of any significance before Playa San Miguel. (i.e. gas, hardware store, bank, grocery store).
Jicaral to Playa San Miguel (47 Km or ~ 1 – 2 hours by car) is over a rough dirt road.  Head west toward Camaronal (Hwy 163); pass the Teak plantation and factory at 30 Km; San Jorge (34 Km); When you arrive in San Francisco de Coyote at ~37 km look for signs to "Playa Costa de Oro"; and "Hotel Arca de Noe"; go past the entrance to Playa Costa de Oro.  At ~ 42 Km. you will pass the very nice "Arca de Noe" Hotel which is situated about 1 Km before the turnoff to Playa San Miguel (left toward the ocean).  Drive toward the beach until you hit a crossroad approximately 50 meters back from the beach.  Go right (North) after a short distance you will pass the Blue Pelican.   Continue N  past the Escorpion Volador (Flying Scorpion) Restaurant/ Cabinas.  Follow the road another couple hundred meters north to the entrance of the lot. Look for telephone pole #168 (19A).  It is located on the NW corner of the lot.  The entrance gate is in two sections. The Treehouse sits at the back of the lot.
Options by Bus:
Bus option  #1:  From the San José (Airport) take a taxi to "El Radial" bus stop in Alajuela (10 min ~ $6).  Believe it or not, there are two buses per day that leave this location and that will bring you directly to Playa San Miguel!  (In 1/2010 they left the SJ terminal @ 6am and 3:00pm and the ticket cost was ~ $6. The phone for the ARSA Bus Co. from the US is 011-506-2-257-1835 or 2-258-3883).  Take the bus marked Playa Bejuco (Peninsula Nicoya) via El Puente and Jicaral.  Note: Playa Bejuco is at the end of the line.  Alajulea to Jicaral is ~ a 4 – 5 hour bus ride.  The San Miguel (marked Bejuco) bus will be waiting for you at the bus terminal in Jicaral.  Ask the driver to drop you off at Playa San Miguel (on many occasions the locals refer to Playa San Miguel by its old name Los Maderos).  Jicaral to San Miguel will take 1.5 – 2 hours depending on the condition of the road, breakdowns, stops, river crossings, etc.  On this leg of the journey it helps if you have an ipod and imagine that you are enjoying one of those fancy vibrating massage chairs that you've seen demonstrated in the mall.
Bus option #2:  From the San José (Airport) go across the street to the bus stop.  Head North on Hwy 1.  Take a bus to Puntarenas (Peninsula Nicoya).  Take the Ferry to Playa Naranjo.  Take a bus to Jicaral and transfer to a bus headed to Playa San Miguel.  This is probably the most interesting bus route.    NB:  Times and distances are approximate.  Occasionally, usually only during the rainy season (June – Nov), roads to Playa San Miguel may be impassable.  Even the cerveza trucks cannot make it through!
Option by plane:  The fastest way to get (most of the way) there.  SANSA (2-221-9414) and Nature Air (2-220-3054) have flights from San Jose to the airfield Islita.  From there you will have to arrange for a taxi to take you to Playa San Miguel.
THINGS YOU WILL NEED TO KNOW!  
1) If there is no H2O try turning on main water valve.  The main water valve is located along the ocean side inside front fenced edge of the property.  Do this:  Stand inside the lot and face the ocean.  Follow this fence line to what would be the North/ West corner.  Look for a small red valve on the fence line. Can't see it?  The crabs may have buried it.  It is located ~ 1 meter from the corner post.  Dig gently with your hands or a stick.  It could be 3 or 4 inches below in the soft dirt.  Don't use a shovel as YOU WILL break the plastic pipe and have a geyser of water to contend with.
2) Turn on toilet valve below toilet.
3) Turn on secondary electric breaker.  Secondary breaker switches (2) are located on the South/ West cement corner post of the bodega/baño.
4) Turn on main (knife) breaker located on the inside of North cement post of entrance gate.  "Carefully", with dry hands – and touching only the porcelain portion of this breaker – lift the knife switch to its full upright position.
You should now have electricity and water.  The water from the tap is drinkable.
5) Please do not use or borrow anything from the ocean side of the bodega/ baño.  There are some inner doors & locks for my tools and personal stuff.  A lot of things got fried in an electrical storm so I am in the process of replacing some of the electrical amenities.
6) The shower is outside and attached to the bodega.
7) KEEP THE BODEGA/ BANO LOCKED AT ALL TIMES.
WHEN YOU LEAVE:
1) Shut off water to toilet.
2) Shut off main water valve.
3) Turn off main breaker.
4) Turn off secondary breakers.
4) Lock the bodega/baño.
Take these notes with you and review this list two more times before you leave.  Thank you.
OTHER THINGS THAT ARE HELPFUL
1) You may need a tent and a sleeping pad.  You can sleep in a hammock if you have one. The treehouse has a roof so you could also get by with a mosquito net. (The double wide "Mambassa" that they sell @ REI is a perfect fit for the upstairs rustic teak pole bed.) You can get a foam-sleeping pad in Jicaral at one of the hardware stores. Also, pick up a machete to open coconuts.  (Note: I USUALLY have extra foam pads, mosquito nets, a hammock and a machete in the bodega).
2) There are two bar/ restaurants on the beach.
Marvin Vargas looks after the lot.  If you have problems call or contact Marvin (8-344-0310).
3) Most of the locals are very friendly.  They do not know me as Hoppy.  I am known as "Stephen".  Do not let anyone into the Bodega.  Keep valuables out-of-sight and locked up EVEN WHEN YOU ARE PHYSICALLY THERE ON THE LOT.  The beach is generally quite safe.  Use common sense.
4) Occasionally you can rent horses and kayaks from the Arca de Noe Hotel located on the main road that runs parallel to the beach.  At the South end of the beach is a nice estuary that is good for swimming and kayaking.  Hint:  Kayak into the estuary as the tide is coming in and paddle out with the outgoing tide.
5) BEWARE of a strong undertow in the ocean.  At least one person a year drowns at Playa San Miguel.
There is a turtle nursery on the beach ~ 1/2 Km South of the Costa Rican Restaurant Rancho Jabilla.  Mommy turtles lay their eggs on the beach during the rainy season and the little ones hatch out starting in November.  The project is cooperative arrangement between the government resources agency and a private non-profit called PRETOMA.  The "Turtle People" work the beach from July through December.  You can make arrangements to go out on nighttime, low tide walks to look for the turtles (usually Olive Ridleys with an occasional Leatherback thrown in for good measure).
7) Arca de Noe is a wonderful hotel (and sometimes) restaurant. Both the Blue Pelican and the Flying Scorpion have rooms to rent (~ $50/nt w/ breakfast 1/2010)
8)  There is NO garbage service at the beach.  You will have to pack out everything you bring in.  You can recycle plastic bottles, aluminum cans and glass bottles at the PRETOMA recycle center just north of the town of San Francisco de Coyote or bring it into Jicaral and the office of ASEPALECO has a sophisticated recycle program.  Some beer and soda can still be purchased in returnable bottles.  This is a good option to help reduce the volume of trash.  Paper can be placed in the burn pile.
9)  Eat the coconuts, bananas, cashews,  starfruit, and mangos (mango season is Feb to Aug).  Use the chopping block to open the coconuts and don't cut your thumb off in the process.  Unless you are very good at shimming up coconut trees you might want to use the ladder to fetch a bunch of the ripe green or yellow coconuts.  The coconut harvesting process is rewarding and often full of surprises.  Coconut bunches and leaves are home to cockroaches, snakes, stinging ants, locusts on steroids, and an occasional scorpion.  Be aware of gravity.
10)  Make it a routine to shake out your shoes & clothing before you get dressed.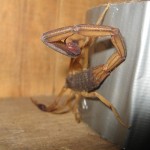 The scorpions' sting probably won't kill you but it is most disconcerting to have them racing to safety into the darker regions of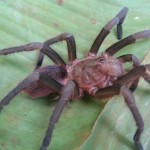 your pants as you are struggling to expose them to the light of day.
11)  When you return mail me back the key and let me know about your trip.
Helpful Stuff:
Hotel Aeropuerto B&B (~$75 and up) is a nice "Tico" place to stay.  Located ~ 5 km north (free taxi ride to/from the hotel) of the airport in San Jose.
Also Alejuela Backpackers.com (2-441-7149) is $15 for a dorm bed and $25 for a private room for one.   They have internet and a nice little cafe.  The Station Wagon bus station is just steps away from the entrance of Alejuela Backpackers.  It costs ~ 75 cents to go into downtown San Jose and the busses run day and night.
There are two internet locations fairly close to Playa San Miguel.   One is at SF de Coyote and another at Pueblo Nuevo.  The one in SF de Coyote has Skype.  You can call the US on any public phone with a phone card (tarjeta telephonica).  Phone cards can be purchased at most grocery stores.  A $2 card (~ C 1000) gets you about 7 minutes of phone time to the US.  AVOID phones that advertise "Call the US from this phone".  You will need a bank loan to pay the bill.  Rossi also has an internet connection at the Flying Scorpion Bar/Restaurant/Hotel.
I am also looking for a business partner to co-invest in the Treehouse.  Call me for details.
TRAMPAS (Traps):
Heads up!  In December 2005 some good friends were robbed 3 times on a 2-week trip to CR.   Unfortunately, they fell victim to some of CR's all too typical con jobs.   Trap #1:  The tire slash.  On a busy street in SJ someone clandestinely punctured one of the tires on their rent-a-car.  When they pulled over to fix the tire a "helpful" Tico stopped to offer assistance.  Meanwhile a co-conspirator pulled up along side reached in and grabbed a backpack.  Trap #2:  The Roadside Distraction.  They stopped to address and assist a pedestrian exhibiting some very odd gyrations alongside the road.  When they went to speak to the fellow an accomplice helped himself to their stuff in the unlocked and unguarded car.  Trap #3:  Valuables safe in a locked glove box… Not!  They were careful to park where they could keep an eye on the car when they went surfing.  Unfortunately, one side of the car was blocked from view.  It only took a few seconds for the professional ladrone (thief) to jimmy the car door and pop open the glove box.  My friends were totally unaware of the robbery and they recalled that they actually saw the thief walking (not running) to a get-away car as they came back up from the beach.  Upon inspection they found that the thief had grabbed their wallets, cash, diver licenses and credit cards.  To add insult to injury a trafico (Tico highway patrol) bribed another $20 out of them when they were pulled over and couldn't show their diver licenses.
When taking the bus it is best not to place anything of value in the overhead storage area.  Your larger items that you must stow in the storage compartment under the bus are actually quite safe.  Stay attached to your carry-on valuables at all times.
Common sense is always the best prescription for safe travel.  Make it difficult for the bad guys.  Here are some of my favorite tried and tested gadgets that can help keep you and your belongings secure:   http://astore.amazon.com/sathdapl-20
Make a purchase through this link and you are contributing to the conservation efforts of the community of San Ramon de Rio Blanco and the Karen Mogenson Reserve.  Moreover, you get the same good Amazon prices and service.   Thank you, Hoppy