January 14th, 2013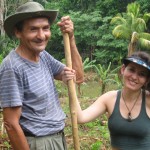 VOLUNTEER IN COSTA RICA
What: An opportunity to volunteer in rural Costa Rica to help protect a delicate ecosystem and provide economic benefits to the local community.
When: Anytime. (Recommended minimum is one month.)  This will give you time to acclimate, experience the culture, and work on collaborative projects within the community.
How much: $25/ day includes your room and meals with a local Tico family. Alternate accommodations are available upon request.
Contact: Stephen (Hoppy) Hopkins; hoppy4840@gmail.com
THE PLACE
Although a small country about the size of West Virginia, Costa Rica has incredible biodiversity with scenic beaches, lush rain forest, impressive volcanoes, and exotic wildlife.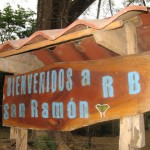 Costa Rica has been able to distinguish itself from the rest of Central America with its political stability, strong democratic institutions, a commitment to education and the environment… and no standing army.
The Nicoya Peninsula is located on the Pacific N/W corner of the country. Much of the original 'dry tropical forest' habitat of the peninsula has been cut for ranching and teak wood plantations. About 15 years ago the small community of San Ramon de Rio Blanco decided to establish their own conservation zone and create an ecotourism project that would be an alternative to this destructive trend. The Karen Mogenson Reserve was established with the help of financing from numerous international NGO's, community sweat equity, and assistance from volunteers. The lodge uses solar energy for lights, to pump water, and to run a small refrigerator.  Traditional Tico meals for visitors to the Reserve are prepared on a gas stove, over a wood fire, or in a solar cooker. There is a dining area, four comfortable dormitory cabins, and a small classroom adjacent to the old farmhouse at the Reserve. Much of the fresh food that is served at the Reserve is raised and produced by folks in the community.   The protected area of the Reserve is a birders paradise, home to howler and white faced (capuchin) monkeys and a healthy collection of flora and fauna typical of a healthy dry tropical forest environment (See Natural History Guides by Dr. Dan Janzen or http://en.wikipedia.org/wiki/Daniel_Janzen ).
THE BASICS
Would you enjoy working with a rural community while protecting natural resources? Would you like to see the real Costa Rica and discover its culture and traditions? Do you enjoy the natural wealth of the forest and visiting new and surprising places?
Lets start with a Spanish lesson: ¿Cómo amaneció?
Roughly translated it means, "How goes it this morning? … or, how did you wake up this morning? And, your response would be:
Bien, muchas gracias. Y usted. "Fine, thank you. And you?"
This is a very common greeting that you will hear from your neighbors in San Ramon de Rio Blanco a tranquil little village located on the Nicoya Peninsula of Costa Rica. I happened to stumble upon this location about 15 years ago on one of my frequent excursions through Central America. It is a great off-the-beaten-path location that highlights a community eco-tourism project and traditional Costa Rica culture and attitudes.
This volunteer activity that I am suggesting is a FULL immersion, enriching experience with an opportunity to participate in rural life daily activities. It would be helpful if you knew a little Spanish but it is not necessary. You will be living a second language. Most certainly it won't package the culture in postcard pictures or touristy shows. However, it does offer the possibility of shared experience and direct contact with your hosts. You might describe this experience graphically as:
 The Tour Bus  →
You  ←
WHY YOU WANT TO DO THIS:
Outside the limelight of stalled international negotiations, individuals like you are taking up the global challenges of environment, energy and development. They are shaping new ways of working together, acting locally AND globally. They are participating in collaborative opportunities and volunteering their time in work that matters. People just like you are not just talking a good story, they are taking part in it.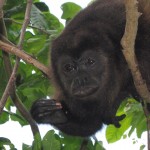 On a personal level your participation will help you to:
♦ Gain international work experience to better compete in today's job market.
♦ Broaden your worldview.
♦ Give something back to the community that is hosting you.
♦ Be a part of a local conservation initiative.
♦ Refine your professional skills.
♦ Improve your language skills.
♦ Build a network of international friends.
♦ Share the benefits of your expertise.
♦ Experience a new culture as an insider.
THE DETAILS
This is not your typical volunteer/ vacation. There are no 'fees' and all the money stays in the community.  I personally make the arrangements for you to live with the host family, volunteer in a one-room school and/or work in the local community operated nature reserve.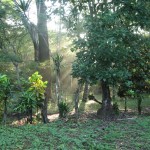 Although you will be part of a local conservation initiative you will be working independently, with other volunteers and with members of the community. There is no set schedule and the specifics of what you do are determined by the immediate needs of the community and your personal interests.
The projects are very time and site specific, as YOU will be communicating with members of the community and quickly discover where and how you can help as time, need and your special skills allow.  Here are some examples:  Teach English at the school or to adults in the community; clear trails, build foot bridges; lead guided walks for tour groups; GPS mapping of the reserve & farms; playing music; helping with community events; recycling; cooking & cleaning at the Karen Mogenson Eco Lodge; minor repairs at the Lodge; water conservation and solar projects; painting; reforestation; etc…??
THE COMMUNITY
The town of San Ramon de Rio Blanco is a very small, tight-knit rural Tico community.  San Ramon de Rio Blanco consists of a one-room school, a church and about 50 homes.  A few homes are clustered along the main "road" around the "town" center; the rest are scattered throughout the farms in the general area.
The people of San Ramon de Rio Blanco are very healthy in body, mind and soul. Although one can never be too cautious, it is as safe or safer than any small community here in the US. Always employ an abundance of common sense when traveling in a foreign country. (Read over my 'trampas' (Traps) on my 'directions' page at http://www.savethedamnplanet.com/ )  The community truly enjoys having volunteers and they appreciate the assistance. Very few folks in town speak English.  It is your perfect immersion Spanish language learning experience.
There is a small variety store and a bar in the town of Rio Blanco, which is located approximately 5 km from 'downtown' San Ramon de Rio Blanco.  The nearest town of any consequence is Jicaral.  From Jicaral to some of the nicest beaches on the Pacific side of the Nicoya Peninsula is approximately 1 hr by bus (~$3).
The Nicoya Peninsula has a distinct dry season from November through June. Sea turtles arrive to lay their eggs along the beach during the rainy season from July to November.  See my http://www.savethedamnplanet.com/ 'beach house' page for some pictures and suggestions for beach accommodations.
A public bus can take you from the airport (Alejuela/ San Jose) to the town of Jicaral (5 hrs at ~$7) where you can hire a taxi (~$15) to take you to San Ramon de Rio Blanco.  See my 'directions' page at savethedamnplanet.com for options and transportation details.
 ALTERNATIVE ACCOMMODATIONS
Contact me if you have any questions. Alternative accommodations are available if you feel that you would like to volunteer but a home stay is not practical.
ADDITIONAL INFO
Community eco-tourism organization.  ASEPALECO
Testimonial from Nicole
Hoppy!!
I just got back from Costa Rica and am indeed ready to have a long happy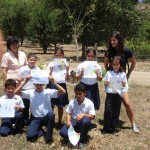 phone conversation with you.  I had an amazing time.  Fernando and Cynia
(and little Fernando Chicadillo) are like another family to me, I'm so
lucky to have met them.  Thank you so much for bringing them into my
life.